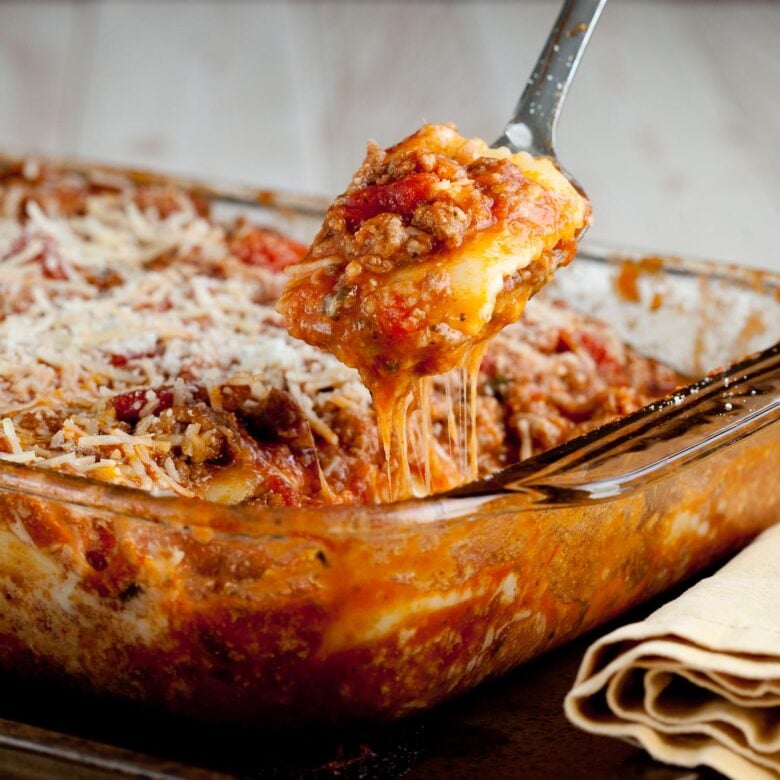 Why You'll Love Baked Ravioli
Baked Ravioli is a super easy one-pot meal everyone adores.
It's loaded with inexpensive ingredients, so it's great for any budget.
Baked ravioli comes together in less than an hour – perfect for meal prep or weeknight dinners.
It's the ultimate comfort food, with cheesy goodness and savory sauce.
You can fully assemble and freeze this dish for baking later.
Watch Me Make Baked Ravioli
How to Make Baked Ravioli in Advance
One amazing thing about this recipe is the ability to prepare it completely ahead of time. It's easy to assemble all the ingredients and either cook it immediately, or prepare it for the freezer.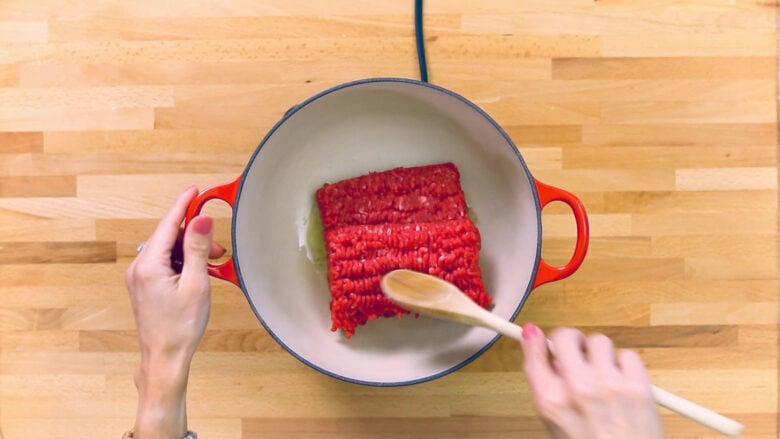 Brown the Meat: Brown ground meat in a large heavy pot on medium high heat. Drain excess grease.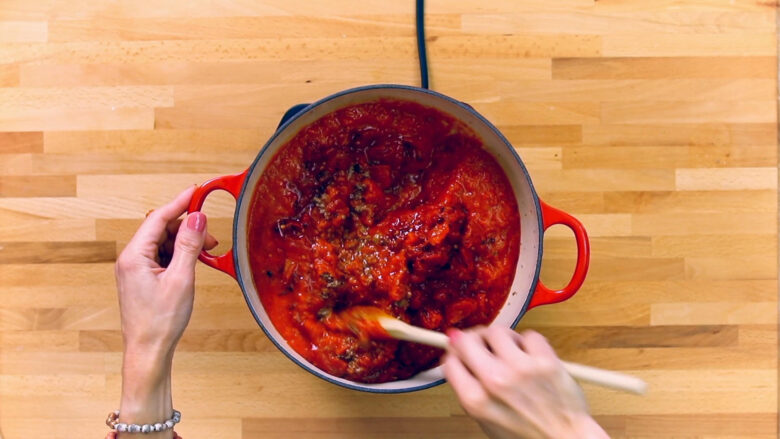 Prep Sauce: In the same pot, add pasta sauce, diced tomatoes with juices, and the spices.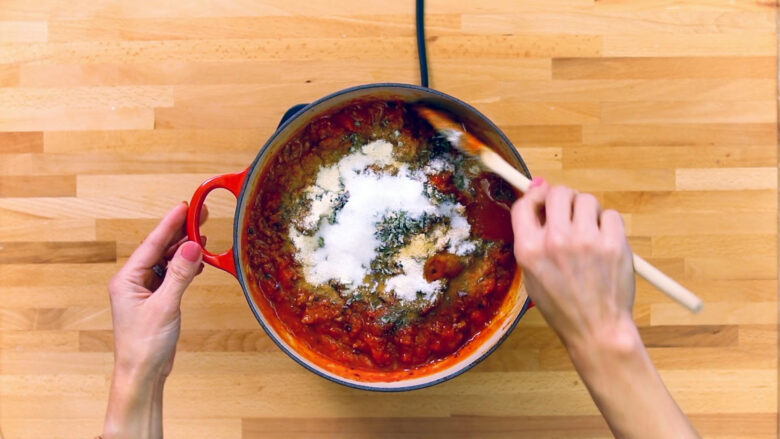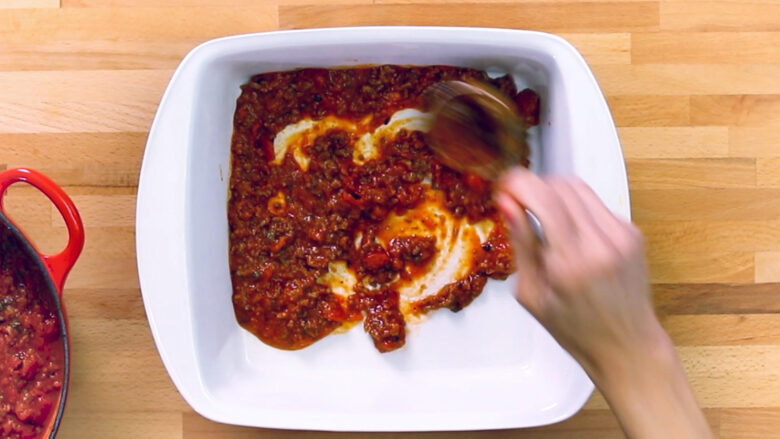 Prep Casserole: Spread the sauce evenly over bottom of baking dish. Layer half of the ravioli over sauce, followed by half of the cheeses. Repeat layers, finishing with sauce. Sprinkle parmesan across the top.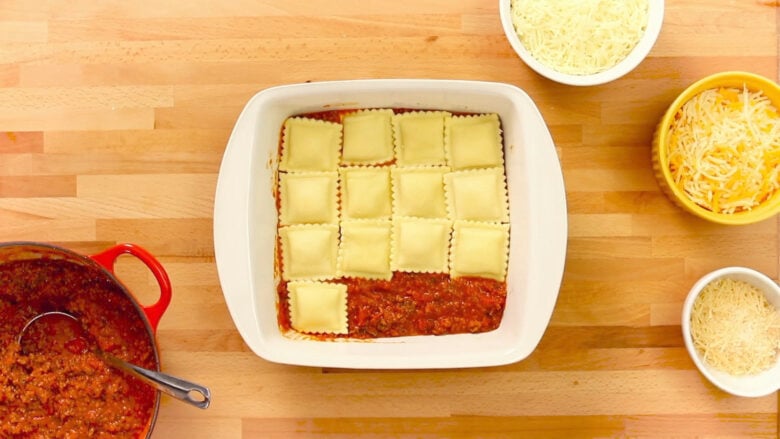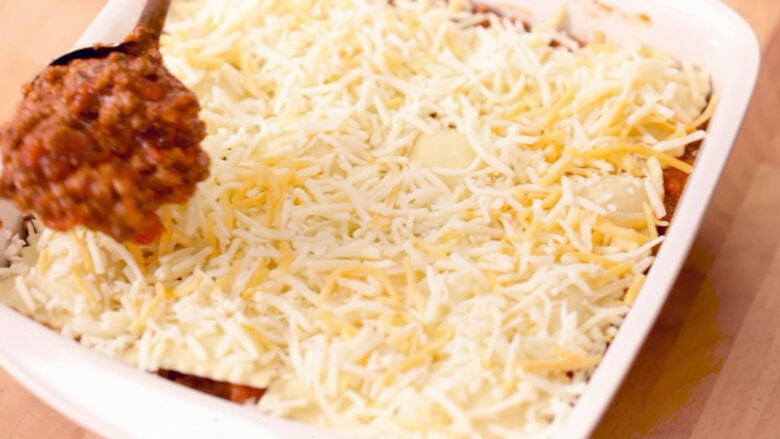 Bake: Cover with aluminum foil and bake at 450F for 30 minutes or until the ravioli is tender.
Make-Ahead Tip: If preparing this ravioli bake in advance for future use, skip step 4 above. Cover tightly with foil, and place in the fridge or freezer. When ready to cook, bake directly from fridge or freezer. If frozen, bake at least 60 minutes.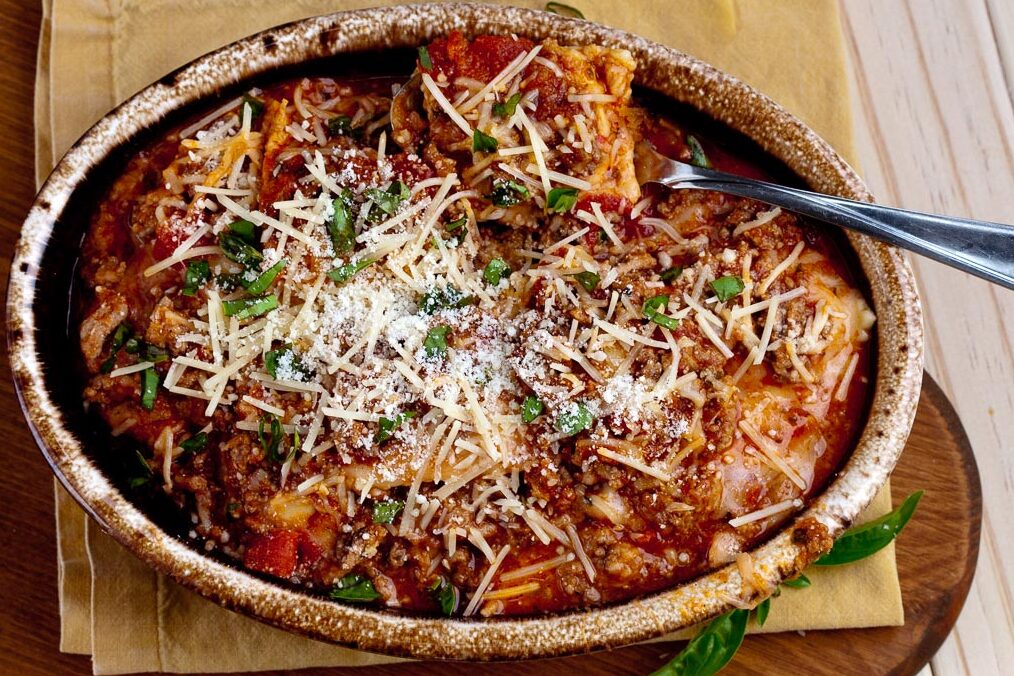 Baked Ravioli
Commonly Asked Questions
What is the best way to cook frozen ravioli?
We love using frozen ravioli in a casserole. It's super easy to make, you can prep it ahead of time, and it delivers a hearty meal that is full of flavor. The cheeses give this baked ravioli a creamy texture.
Can I make baked ravioli casserole ahead of time?
The beauty of a multi-layered ravioli bake made with meat sauce, cheese, and frozen ravioli is that you really can fully prep it and cook it another day. Either place it in the fridge, if you are going to use it within a few days.
You can also freeze unbaked ravioli casserole: cover fully assembled dish tightly with cling wrap or foil and place in freezer for up to a month. Bake directly from frozen.
What meats can I use in baked ravioli casserole?
You can really use any ground meat you like. Ground beef is popular, turkey is a lean alternative, and Italian sausage provides the most robust flavor. You can also omit the meat entirely and go vegetarian!
More to Cook and Eat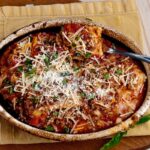 Cheesy Baked Ravioli Casserole
This cheesy baked ravioli casserole is an entire meal-in-one.  Start with frozen ravioli for an easy, delicious meal that is perfect for meal prep. 
Servings: 6 Servings
2

lbs

ground beef

,

or ground turkey

25

oz

cheese ravioli

,

refrigerated or frozen

26

oz

pasta sauce

28

oz

diced tomatoes

,

plain, with juices

2

cups

mozzarella cheese

,

shredded

2

cups

Colby Jack cheese

,

shredded

2

tsp

dried oregano

1

TB

black pepper,

freshly ground

1

TB

garlic powder

1

TB

onion powder

1

TB

white sugar

Freshly grated Parmesan for topping
Cook ground meat in large heavy pot over medium high heat.  Stir and break up pieces until cooked through.  Drain any excess grease.  Turn heat off.

Add pasta sauce and diced tomatoes with juices to the pot.  Add oregano, black pepper, garlic powder, onion powder, and sugar.  Stir to incorporate well.

Spread 1/3 of the meat sauce evenly onto the bottom of a 9×11 baking dish.  Arrange 1/2 of the frozen ravioli over the sauce.  Spread 1/2 of mozzarella and 1/2 of Colby cheeses over the ravioli.

Repeat layers. You should end with last 1/3 of the sauce on top.  Sprinkle top evenly with Parmesan.

If using right away: cover loosely with aluminum foil and bake at 450F for 30  minutes, or until ravioli is tender.If not using right away: cover tightly with foil and place in fridge.  When ready to use, loosen foil and bake at 450F for 50-60 minutes.
Feel free to add veggies to this ravioli bake: frozen spinach (remove excess moisture,) sliced zucchini, or diced bell peppers all work well. 
If you enjoyed this recipe, please come back and give it a rating ♡
Calories: 590kcal | Carbohydrates: 15.5g | Protein: 65.9g | Fat: 29.5g | Saturated Fat: 16g | Trans Fat: 0.1g | Cholesterol: 179mg | Sodium: 1065.9mg | Fiber: 2.5g | Sugar: 5.4g
Did you make this?
Leave a comment below and tag @chewoutloud on Instagram